January 30, 2009 | Category: In My Life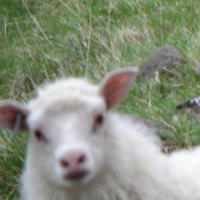 That? Is a sheep. Yes, because I was jealous of Kate's sheep.
But this is a special sheep. This particular sheep, at least its image, belongs to Tim and the whole picture is so much cooler than that snapshot.
Why a sheep? I'm glad you asked. Because it is an Icelandic sheep. And today, CD gave a presentation at Bear's co-op school (he goes one day a week with other homeschoolers.)
This is notable because a) CD has never given a presentation on his native Iceland before and b) CD is about the least likely person to ever GIVE a presentation on anything. He's incredibly shy. But a couple of years ago, he took that required "Speech" class at college and didn't suck. So he girded up his loins and...
Asked me to make a PowerPoint deck for him to talk to. So despite being sick with the freaking plague this week, I managed to organize some ideas and stayed up last night putting them into slides.
We packed up the laptop and an external monitor and some salty Icelandic licorice and his woolly (Icelandic Sheep!) sweater and his Thor's Hammer pendant - and...
He gave the presentation at Bear's school. Twice. And both Bear and I were inordinately proud. In the last year, CD has started to reconnect with his family and with local Icelandic community - and it's sort of awesome to see him sharing that part of him.
This was the kind of day that reminds me, how far we've come since then.
Share:
Delicious!
|
Stumble It!
|

Slashdot It!
Tagged: Sheep, Iceland, Homeschool, Life, Community Corporate, Mommy, Life
TrackBack (0)