September 02, 2004 | Category: In My Life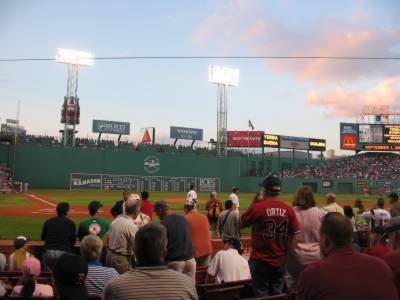 Fenway Park, from Sect 18, Box 39, Row G, Seat 1
Game 67: Ana 7 - BoSox 12 (Yeah Baby), 09/01/2004
My old friend Kevin was into baseball in a very big way and infected me with it when I was in my 20's. I lost count of how many games we caught together.
I remember one night, Kevin and I drove around Chicago looking for a somewhere quiet we could talk. It was a melancholy night, just before he moved away.
Finally he pulled over on Addison, and I looked up at that old sign over the stadium. "I think this," he told me quietly as we gazed at Wrigley Field, "is about as Holy a place in Chicago as you could find."
I understood.
Baseball is a language that has given me common ground with other people as well. Like my dad.
Last night, he took CD and I to the Red Sox-Anaheim Angels game. Dad surprised us with amazing seats, and we lucked out with weather - warm with a cool breeze and a bright moon.
Johnny Damon got 5 hits for 5 at-bats and made it home 3 times. Millar got a 3-run homer. Manny got walked a couple of times. Red Sox spanked Anaheim. It was a rollicking boisterous game, and a great time.
It was the second Fenway game I've been to with my dad.
Aug 18, 1993 was the first time we'd taken in a Red Sox home game together. We got same-day SRO tickets, White Sox/Red Sox and grabbed some programs and some beers.
Danny Darwin, #44, was the starting pitcher. Usually, the Red Sox go through pitchers in a game like a cocktail nuts at a bar - but this day would be different.
It was a sunny summer day and my dad and I found a piece of railing with a good view. As the first outs were made, Dad and I got into a rhythm - he held the beers while I scored the game. He'd look over my shoulder once in a while, correcting my marks - "That was 9 to 3" he'd say. Or, "I'm not sure they gave him the error on that play."
Midway through the top of the 3rd, and a hush began to spread around the stadium. Dad peered at my box scores and asked, "Is that what I.." and I nodded. We shared a long look, and then held our breath.
Darwin, that inconsistent pitcher, was pitching a perfect game.
The full stadium was riveted. We watched in absolute silence.
5th inning, into the 6th and we still had, unbelievably, a no-hitter on our hands. Danny was throwing strike after strike. The catcher, Tony Pena, had practically crawled out of his shorts. Darwin was cool. We were praying, pulling, with glistening eyes and bated breath.
The Chicago White Sox were swinging with everything they had. And theirs was a roster of power hitters.
But no one could get a piece of Darwin.
Finally, in the 8th, with one out, Dan Pasqua connected and ran hell bent for leather before settling on 3rd. Darwin retrieved the ball, ready to pitch to the next batter. As though nothing had happened. No sign of disappointment, just steady focus.
But the fans had were not about to let the moment slide by. Before he could throw the next pitch, we stopped the play.
The noise erupted all at once, overtaking me with emotion. My eyes were puddled with tears. I looked around and saw that every man, woman, and child was up. Dad put out beers on the ground and we joined in pounding our hands together in a beat that shook the walls.
"Darwin, Darwin..." came the cheer. We screamed ourselves hoarse for long minutes, while the refs let the man have his due. Darwin stood alone, tall on the mound.
This wasn't Ripken, or Williams, or any of the guys who I've cheered for before or since. This wasn't Ramirez last night, used to the pounding affirmation from stadium full of admirers.
This was Danny Darwin. Traded around, stats up and down, the oldest guy on the team. You think he'd want to bust out in the Macarena. But there's an unwritten code in baseball. It's dictates a calm, unruffled gratitude to appreciation. A stoic's approach to the boiling emotions of the game. Darwin embodied all the class and grace of that code on that August afternoon.
He simply nodded in acknowledgement.
And I joined with 30,000 fans to peal a last hoot of frenzied joy and appreciation before allowing Darwin to finish his day's work- a 5-0 shutout that was much more than the stats of the day.
It was the best game I've ever seen.
Last night, my Dad driving out of Boston and we look back at the park, windows open and the night breeze still soft and cool.
I got a chill watching Fenway recede. It's as Holy a place in Boston as you could find.
Share:
Delicious!
|
Stumble It!
|

Slashdot It!
Tagged: Baseball, Boston, Chicago, Family, Memories, Fenway, Red Sox Corporate, Mommy, Life