January 12, 2009 | Category: In My Life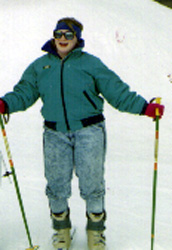 I found this old picture while cleaning up my archives. Those jeans? Are paisley.
I'll give you a minute to wipe the milk out of your nose.
Almost as bad as the fact that I bought, and wore, and thought I was COOL in those terrifying pants is that I still had them in my closet in 1998.
I can remember, grudgingly, making more room for CD. He used a bureau. I hate bureaus. I like shelves and baskets. It seems all good on paper - but in reality, he's a clothes horse. The fashion encroached, and I had to make room.
And there I was, with paisley jeans in hand, thinking: I should save these. Styles always come around again.
Memo from Above: No, Virginia. Paisley jeans will not come back. Nor should they.
I was thinking about that as I've been working.
Schooling my son, figuring out how to crock pot a pot roast (because the oven's dying), and teaching myself about RSS and Digg and Slashdot and Tags vs. Keywords and meta crawling...
Paisley jeans. Will Technorati ever be like Paisley jeans? Will StumbleOn? When Kalisa and Helen and RP and Ben (both of them) and who-all-else and I all started blogging - 5 years ago, now - "social media consultant" was a made-up phrase for "spends too much time on the Internet".
I just organized 5 years' worth of mastheads. Watched as trends came and went, as my skill with photoshop matured...
For the first time in my life, my insatiable curiosity has become a little...sated. At least around the edges. My neck is sore. My brains is stuffed.
I need a good, stiff drink.

Share:
Delicious!
|
Stumble It!
|

Slashdot It!