March 23, 2009 | Category: In My Life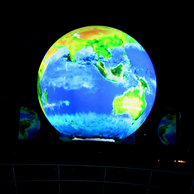 Once upon a time, I was a nut for Mother Earth.
I built recycling programs, and championed re-use/reduce schemes at work, and rinsed out my plastics before carefully tucking them into my green box.
Then came motherhood.
Oh, I am sooooo ashamed.
I used disposable diapers. I DID. I have a very low "ick" factor and about 5 seconds of dry heaves were all that was needed to send my arms around a massive Costco crate of Huggies.
I would wince, thinking of them piling up in landfills. But convenience and comfort and cooties won out over my better demons.
...And then came my plastics addiction.
It started simply enough. No dishwasher. Newborn. Muck. Mess. The need for cost-cutting measures.
I was carrying plastic freezer bags on me to dispose of the disposable diapers and wipes when I was out with my baby. I was chopping up salads and packing up leftovers for my husband's lunch in those little plastic containers. I was portioning out carrot sticks and teething biscuits for Bear.
With all the best intentions of cleaning everything out and re-using them, I would end up with stacks of foul-smelling baggies and incomprehensible pile of square lids and round containers. And back to the store I would go.
The bad habits followed me even into recent years, even after I had a dishwasher to help keep things clean and get several uses out of them.
I know, I know...I was saving the planet with one lo-water showerhead and bashing it with a stack of binned bags and lids.
My son recently called me one it. As his teacher, it was important to share with him the state of the environment. As his parent, I reaped that whirlwind.
"Mom!" he bellowed Saturday, tapping his foot as he looked into the cabinet stuffed with mismatched plastics.
"Um, yeah?"
"You're killing the environment! Remember that picture? Piles and piles of garbage and chemicals in the air?!"
"Yes, but -"
"Mom!! Seriously?"
"Look, it saves money for us to use-"
He raised his copper eyebrows at me and I admit it, I caved. Big strong momma bear went....mush. I imagined a mountain of odd-shaped lids and seas of baggies. *sigh*
"Why don't you help me clean this cabinet out and come up with a better system?"
"Wait a minute, you want ME to do the work of helping fix it?"
"Yes, dear. It's a little something called passing the buck. Er, sharing the responsibility."
He gave me a dirty look as he dug up a cloth bag to put the lids into. A slow smile spread across my face, as we got down to work.
Share:
Delicious!
|
Stumble It!
|

Slashdot It!
Tagged: Recycle, plastics, re-use, reduce, green, environment, parenthood, humor Corporate, Mommy, Life
TrackBack (0)