May 29, 2008 | Category: In My Life
Am I happy? I ask him.
You tell me, he shrugs. Big eyes bright as he falls back into quiet.
Are WE really happy? I push.
If we agree we are, then who's to argue, he responds.

But we fell apart. And once broken, the fairy tale ends. We fell apart, and there is still so much scarred and not-quite about us. I think we're lying to ourselves. I think its all wishful thinking.
He looks at me, thoughtfully. He looks and doesn't say anything.

I lie to myself a lot. I tell myself I'm skinny
You're not, he makes half a smile. But you're beautiful.

Don't say things like that. Just tell me true things. Tell me about how we fell in love, and had a baby, and then the dark and now we'll never have that trust again. I rub my face. Sometimes I don't know what to think. I get scared that we didn't really heal. That we just stopped hurting. And it's not the same. And this love is just....
What? He asks, waiting.
The moment ticks on. I don't know, I admit. Love?
Yeah, said gently. It always was.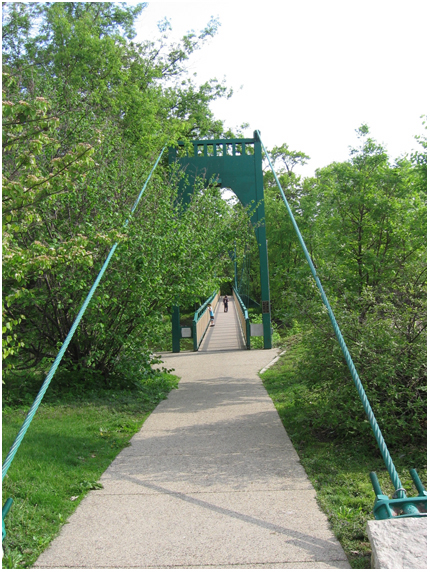 Spring is giving way to summer. The ped-bridge in Riverside, Bear and his friends scampering across.

Share:
Delicious!
|
Stumble It!
|

Slashdot It!
Tagged: Divorce, Marriage, Relationship, Depression, Survivor, Family, Advice, Corporate, Mommy, Life
TrackBack (0)