April 22, 2008 | Category: In My Life
I think I miss my cat too much.
Strange thoughts like dust motes crowd my head.
Or, is that just me?
Once upon a time CD and I had this idea, like a dream, that we wanted to raise Bear up North. Under the Northern Lights, like his father had. Skating and skiing and shoveling, like I had.
We loved this idea. We traveled to towns across the continent, looking for the right place to make our pin in the map. We bundled up suitcases and pillows into the van and watched the miles slip under our tires.
For 3 years. But finding the right place takes time.

Unless, of course, you admit you've never found it. Not really.
We found a place that felt sort of nice, and began thinking we should make the move there and quibble perfection later. It was close enough to my family on the East Coast that we could use them as a launching pad.
That was last spring. Coming home to lilacs already waning.

A year ago.
We didn't move, I've noticed. My rooms are the same. The clutter follows me like a friendly children's show monster. It sips daintily from a mug of tea and gives me a wink.
The reasons we stayed and didn't go are over there in the corner. They're real, tangible. They can be drawn and measured and they all make sense.
So here we are, now. Still in this place. Still in this house. Because instead of moving North - instead we find we must move South. Something we dread.
But my body has put its foot down. For my health, we go what feels like the wrong way. Still smitten with the idea of huffing cold air and watching the pink light of afternoon splashing on long snowy stretches of Earth. Smitten, but realistic.
With greater debt, stumbling credit scores, and a goofy puppy with a poodle afro. We wonder about pulling up stakes and going somewhere. Without the enthusiasm of the destination, logistics overwhelm us. We're stuck. We're afraid.
But we have something we didn't have, before. Before I left my career and began us on this spin.
On Sunday, Bear read his first book from cover to cover - all by himself. It was Green Eggs and Ham. He read it out loud, understanding the words and punctuation.
Perhaps this is no big deal. At 7 and a half, it may be considered overdue by some. After a school year of brutal hours spent trying every which way you can imagine, inch by inch, to get him to read.
And then, to listen to his clear voice ringing through the rooms - suddenly utterly confident and sure - well, it was nothing short of a miracle.
He just grabbed the book from a pile and began.
Maybe we'll figure this out. Maybe we won't. Maybe we'll find a way to move. Maybe we'll still be here next year. Maybe I'll go back to work. Maybe CD will homeschool Bear or I will or he'll make so much progress that he mainstreams back into school.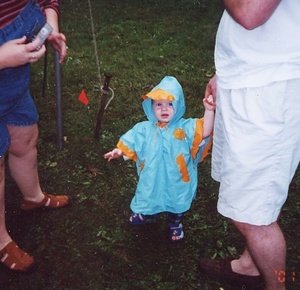 I don't know. My brain is operating on half a cup of coffee. I have 4 deadlines I'm juggling. My son is dawdling about starting his lessons and I think he's decided not to wear clothes today. And I haven't even brushed my teeth yet.
It's just a random Tuesday, juggling corporate and mommy and 10 other things besides.

I used to be smitten with this idea - that someday, we'd get wherever it was we would be going.
I'm not sure if its wisdom or lack of faith that made me let go of all of that. I'd need another cup of coffee to even begin to think about it. I look at a picture of Bear from when he wasn't yet 2 and laugh at the ideas I had then. He's 7 now. He wears a size 4 shoe. He can read.
And maybe his mom is growing up, too.
Share:
Delicious!
|
Stumble It!
|

Slashdot It!