March 26, 2008 | Category: In My Life
I was in love, and hopelessly so. "Lin," I cried to my college suitemate as I sat with my head in her lap, crying. We were in one of the study corners in the Library. "He's never coming for me."
"No," she agreed, for the hundredth, thousandth time. "He's never coming, Elizabeth. And it's not like you've been waiting by the phone this whole time, either."
"Details," I muttered, incurably sad and needing comfort. It was an impossibly sunny day. The kind that Spring tosses at Chicago after too much rain. Deep blue skies and the rare puffy white cloud. "Get my mind off it, please. Of his beautiful eyes, and his incredible a-"
She hit me over the head with a book and left me there to read it.
A screwed up mind-games kind of book. Was she trying to tell me something? Nevertheless, I devoured it. I fell in love with the fictional island of Phraxos in Greece. I was hung over from reading too much too fast and saw stars when I finally stood and stretched. The sun had deserted us, giving way to a rainbow of dusk.
"Lin," I announced, wrapping myself around her as we walked home. "I want to go to Greece."
"Don't we all?" She laughed, kissing my hair indulgently, playfully.
A month later, I got on a plane for London with a one-way ticket and a backpack full of everything but clothes. Two weeks after that, I found a cheap vacation in the last-minute ads for some British-flavored hotel on an island in Greece.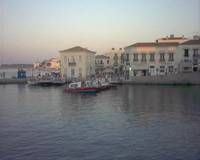 We landed in Athens. A bus ride to a ferry to a horse-drawn carriage later, I was standing naked on a balcony overlooking impossibly beautiful water.
OK, I was wearing one of the many sheets left in a pile for me, wrapped and tucked like a big towel.
But underneath that- I was naked, and ready, and awake.
At last.
The next morning, I went downstairs for breakfast. The Englishman with impossibly long sideburns leered at me. "Alone, are you?"
"I'm looking for a fictional place that I think might be real," I said. "Phraxos."
"You are here!" The hostess exclaimed, an ex-pat with a beautiful smile.
I could hear the blood rushing in my ears. "You know what I mean?" I asked, disbelieving.
"Of course! The Magus. It was set here, in Spetses. You can rent a little motorbike to get to the school," she pointed towards the scrub-covered hills.
My anticipation rising, I raced down the lane and rented a moped (no helmet, thank you) for a couple of pound notes and attempted to drive it along the rutted lane, following the map the nice woman had drawn for me on a napkin.
But my skill with motor vehicles was overset by the sandy, uneven roads. Before I could get my balance back after a particularly sketchy slide, my wheel caught and I was propelled into a forest of pine trees.
Hanging onto the handlebars for dear life and I bounced crazily down the hill until a nicely placed log stopped my bike.
But not me.
I landed like a rag doll onto the back yard of a little house. A litter of newly born kittens mewing by my filthy face and a tall, tanned man making a shadow over me.
"You are OK?" He asked, reaching out to help me up.
"I am, I think," I answered, taking inventory of my scratched and abraded parts.
His name was Denis, and he pulled on a shirt as he boiled water to make me tea. He had band-aids and salve and heated eyes. And he didn't seem to mind that it had rained down a blond American woman onto his lawn.
His parents came with lunch, and they insisted on sharing it with me. Afterwards, one of his brothers fixed my bike while his father showed me the hull of the massive wooden boat the family was restoring. Side by side, I helped them sand down the layers of old paint, until my arms grew sore and my bruises began to ache.
After some discussion, it was decided that the prudent thing would be for the brother to ride the bike back to the rental guy while Denis walked me back to the hotel. Shoulder to shoulder we headed down the road in comfortable silence.
"You were riding for fun? When you made yourself lost?" Denis asked, finally.
"Uh, no," I laughed. "I was looking for a school, actually."
He stopped and looked up at the waning sun. "It is not so far," he told me. "But not the way to the hotel."
"You'll show me? Please?"
He thought a moment, and nodded. We changed direction and walked for a long time. The breeze kicked up, but it was welcome.
Finally, we turned a corner and there it was.
"Oh," I said. Looking at the apricot buildings and the dark waters beyond.
"Yes," Denis chuckled. "Oh."
He showed me around the campus, ending up at the shore.
The first stars came out.
"You are..." he searched for words. "Bad love?"
"Not at first," I said sadly. "But then he never came back for me."
"I would," he told me solemnly. "I would not leave. For a woman such is you."
He had a doctorate in flirting, and it felt good. A long way down the shore, bars and restaurants were beginning to light up like Christmas. I indicated the way with my jaw.
He nodded and led the way. Once we got back on the road, he reached out his hand.
I darted away, at first.
But then, I realized that there are moments. And this was one.
I walked closer to him, and gave him the half-biting-my-lip smile.
He laughed out loud and reached his hand back out to me.
And I took it.
Share:
Delicious!
|
Stumble It!
|

Slashdot It!