October 02, 2006 | Category: Best Of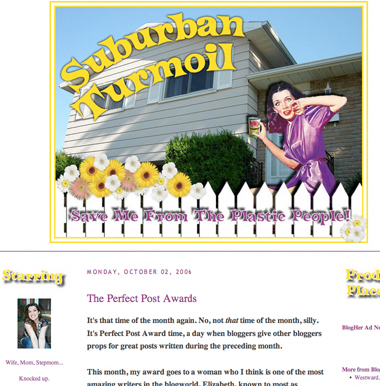 If you click on the picture, you will go to Lucinda's site (aka Her Royal Princess of Nashville Scene, Lindsay Ferrier). Lucinda is incredibly talented and has always been so very supportive of this site.
Some people, in the process of getting their dreams, decide that success is finite - and the more they can help others fail the more that will leave for them to win.
Lucinda? The opposite of that.
She decided that my last entry, "Wild Winds", should have this award:

. The thing I like best about this award is that it is a grass-roots (that's a synonym for "Internet", right?) peer recognition campaign.
Which is really cool.
Kind of like Lucinda.
Meanwhile, I am gonna bask in the lift she gave me this cracklin' rainy Monday. And be grateful.
Share:
Delicious!
|
Stumble It!
|

Slashdot It!
Tagged: Corporate, Mommy, Life