June 23, 2006 | Category: In My Life
First of all, see that picture? See that hole in my Bear's mouth? YES!!!!! You guessed it! The tooth fairy is coming to our house tonight!!! (That squealing is me, 2 parts grossed out and and 1 part loving the wicked milestone)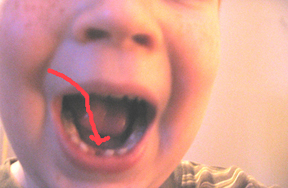 We are nowhere near packed for our trip, but we're heading out at dark o'clock tomorrow morning come hay or high water.
Don't know if I should be so hep to get to somewhere called the "badlands" ... but the excitement in my Bear's face is contagious.
Westward, ho!
P.S. Someone asked Bear the other day what he wanted to be when he grows up.

He responded:
"Police Officer, Doctor, Explorer, Soccer player in the Wold Cup for Iceland or America, Archeologist of Dinosaurs. Also I hope God makes me a Daddy. I just want to be everything. Except an astronaut."

"Why not an Astronaut?"

"Well.... I think going into space would freak me out. Even if I was a Superhero."

"Really?"

"I am so sure. Spiderman never went into space and he was the best superhero. So I'm not going into space, too."
Share:
Delicious!
|
Stumble It!
|

Slashdot It!
Tagged: Corporate, Mommy, Life