October brings our annual trip to Bengston's Farm (warning! midi on site!).
Much warmer than last year. We skipped the pig races and concentrated on the important things: kettle corn, feeding carrots to baby llamas, and getting the perfect pumpkin for the evil mutant squirrels to demolish to decorate.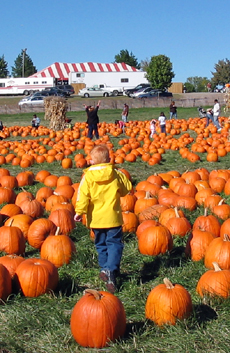 So we headed down the hill away to the field of pumpkins and let Bear loose. Off he ran. And ran. And ran. The boy inspected only eleventy bagazillion pumkins. If it was orange, he was considering it.
He found a big one after about 10 minutes that made him grin. We grinned back and thought ourselves lucky. No. No. No. The limpid pools of blue (so recently ill and sad) batted at us, pleading. Bat, bat. Plead, plead.
"Can I have two pumpkins this year? One big and one small?" Bat, bat, bat.
With a sigh, I nodded. CD clearly mouthed the word 'sucker' at me over Bear's head. Meanwhile, our son did his ricochet rabbit pumpkin hunting act for a solid 4 or 5 acres of pumkins.
Finally, a lovely smaller pumpkin was found. Clearly, it met some kind of secret Bear criteria. I nodded, tiredly, and we marched down the hill with it to join CD.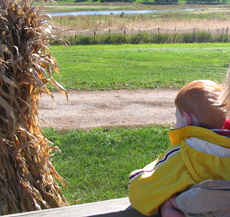 "Wait!" Bear pleaded as the tractor came to take us back up to the checkout. "There is THREE people in the family. We need THREE pumpkins!"
Seeing my weakness for my son's eyes, CD firmly jumped between us. Super-Dad! With hands on hips and a granite expression. "TWO Pumpkins is all we're getting!"
Yeah, we're such badass parents.
Although he seemed melancholy on the ride, it turned out he was just tired.
By the time we pulled out of the parking lot, Bear was out cold (and snoring just a little). His hand in mine in the backseat. A few minutes later, I was too. Happiness, blue skies, and pumpkin hunting turns out to be a recipe for a long nap.
And all I could think as I slipped into sleep is "this is how the days should be".
Share:
Delicious!
|
Stumble It!
|

Slashdot It!